HOW TO REDENSIFY AND LIFT YOUR SKIN?
SKINCONSULTAI CoachingVichy laboratoires
Week 2
Vichy laboratoiresSKINCONSULTAI Coaching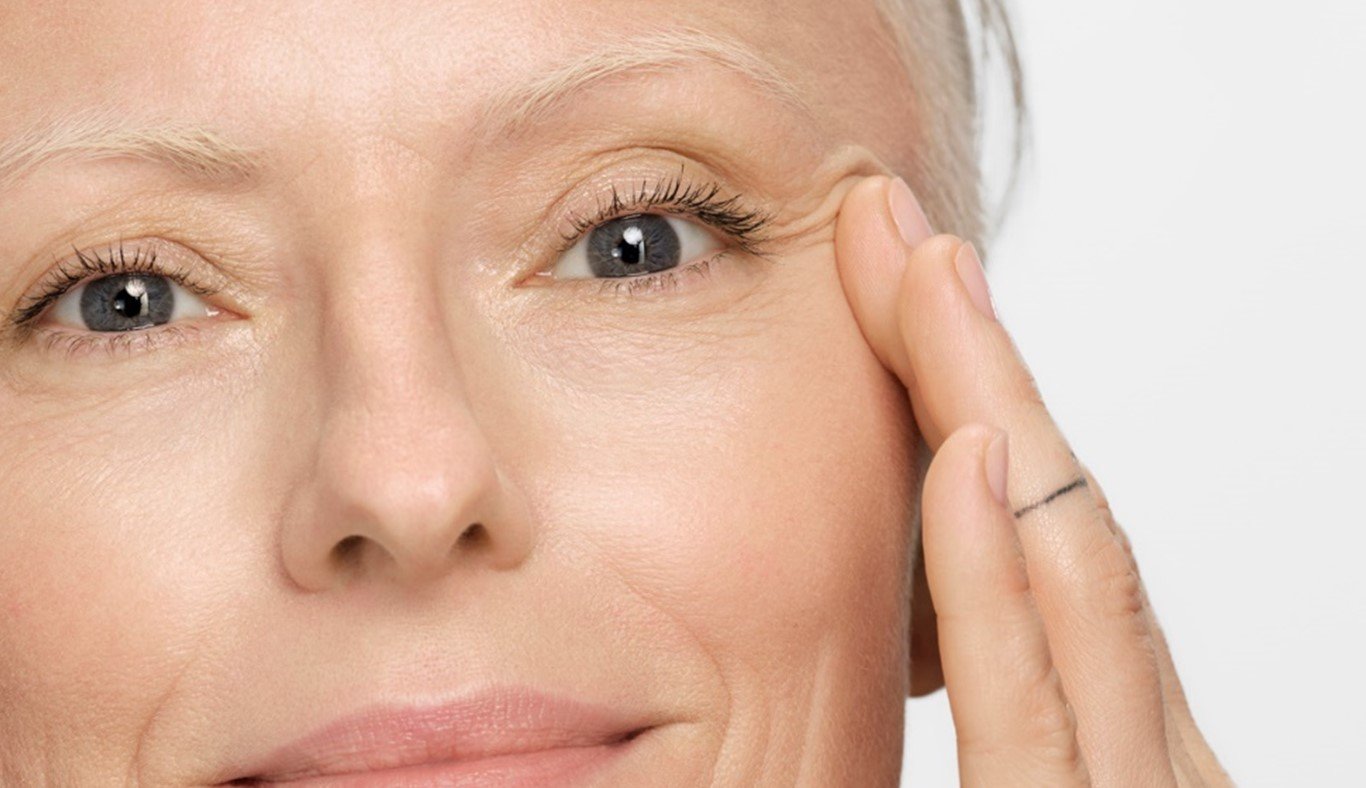 WELCOME TO THE 2ND WEEK
HAPPY TO BE BACK! WE HOPE YOU HAD A GREAT WEEK. PERHAPS HAVE YOU ALREADY INTEGRATED NEW HABITS TO YOUR ROUTINE? DID YOU NOTICE EVEN SMALL CHANGES?
HERE ARE OUR 3 OBJECTIVES FOR THE WEEK
UNDERSTAND WHY SKIN LOSES DENSITY & IS MORE WRINKLED
INTEGRATE EASY FACE EXERCICES 3 TIMES A WEEK
CHOOSE AN ADAPTED DIET
WHY SKIN LOSES DENSITY? WHY WRINKLES ARE MORE VISIBLE?
SKIN & EXPOSOME – Environment, lifestyle and hormonal variations.
Dermatologist in Canada, Dr. Jennifer Beecker is specialized in medical dermatology, skin cancer as well as cosmetic dermatology.
Discover what are the impacts of hormonal variation on skin at peri menopause and how to nourish your skin deeply.
Discover what are the impacts of hormonal variation on skin at peri menopause and how to nourish your skin deeply.
VICHY'S SOLUTION
To target specific skin needs at peri-menopause, Vichy Laboratoires created NEOVADIOL PERI-MENOPAUSE Serum and Creams protocol.
Clinically scored by dermatologists, its efficacy has been tested on peri-menopausal women with sensitive skin.
FRÉDÉRIQUE LABATUT
HEAD OF VICHY LABORATOIRES
"LET'S FOCUS ON NEOVADIOL PERI-MENOPAUSE DAY & NIGHT CREAMS. FORMULAS ARE ENRICHED WITH HYALURONIC ACID."
1 min
reading
WEEK 2.
PERI-MENOPAUSE DAY AND NIGHT CREAMS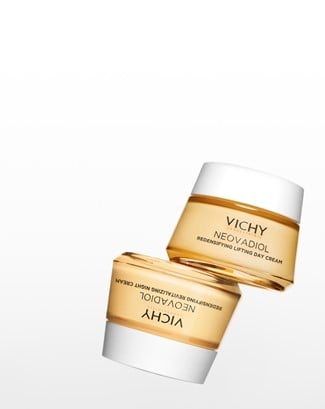 NEOVADIOL PERI-MENOPAUSE DAY AND NIGHT CREAMS
For 30 years, Vichy has been involved in research on menopause and skin, becoming a pioneer in skincare for menopause.
To replump your skin and compensate Hyaluronic acid daily loss, our peri-menopause protocol skincare is enriched with Hyaluronic acid.
Apply NEOVADIOL peri-menopause day or night creams after your serum.
Each formula is formulated with a duo of Proxylane and Cassia Extract to compensate visible impacts of hormonal variation on skin and are enriched with Hyaluronic acid to replump and improve skin elasticity.
NEOVADIOL REDENSIFYING LIFTING DAY CREAM:
A lightweight day cream to redensify +17% (1) and lift your skin +25% (1)
NEOVADIOL REDENSIFYING REVITALIZING NIGHT CREAM:
A fresh night cream for a redensified skin and reasted features upon waking up: radiance +12% (2) on top, an instant cooling effect -2,7°C (2) to refresh your skin at night.
(1) Clinical scorings on 220 women after 3 months, using Neovadiol peri-menopause day creams, (2) Clinical scorings on 24 women after 2 months using Neovadiol peri-menopause night cream
1 min
reading
WEEK 1.
MY SKINCARE
PROTOCOL
AT PERI-MENOPAUSE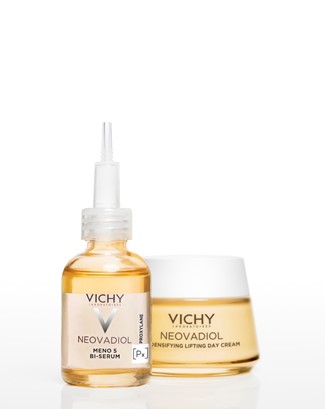 MY SKINCARE PROTOCOL AT PERI-MENOPAUSE
NEOVADIOL Peri-menopause formulas are enriched with a powerful blend of derm-actives that match your specific skin's needs at peri-menopause.
To compensate visible ageing signs due to estrogen and cortisol variations at peri-menopause, NEOVADIOL serum and creams formulas combine a powerful duo of Cassia Extract and Proxylane from vegetal origin known to redensify and lift your skin.
To replump your skin and compensate hyaluronic acid daily loss, our peri-menopause protocol skincare is enriched with Hyaluronic acid.
STEP 1 – CLEANSE
VICHY PUERTÉ THERMALE 3-IN-1 milk
It cleanses impurities and pollution particles, removes makeup from face and eyes, and leaves skin feeling toned and comfortable without drying out.
STEP 2 - PREPARE
NEOVADIOL MENO 5 BI-SERUM
It reactivate 5 skin mechanisms: density, age spots, wrinkles, radiance, dryness
-13% sagginess(1)
-22% age spots(2)
+61% Epidermal surface lipids(3)
-12% wrinkles(4)
+14% Radiance(1)
STEP 3 – PRESERVE DAILY HYDRATION & SOOTHING EFFECT
NEOVADIOL PERI-MENOPAUSE REDENSIFYING DAY AND NIGH CREAMS
It reactivates skin mechanisms at peri-menopause:
+17% density (5)
-28% wrinkles (5)
-50% dryness (5)
STEP 4 – PROTECT YOUR SKIN DAILY
CAPITAL SOLEIL UV AGE DAILY SPF50+
It is the essential final necessary step in your daily skincare routine, all year round. The lightweight, breathable texture combined with advanced suncare technology provides uniform invisible coverage, that leaves no white cast or tacky finish.
(1) Clinical scoring - 42 women after 2 months, (2) Instrumental test - dark spot size reduction - 41 women after 2 months, (3) Formula designed with lipids to compensate the reduction of sebum at menopause, (4) Clinical scoring on 41 women after 2 months, (5) Clinical scorings on 220 women after 3 months
RESET YOUR HABITS WITH A NEW FACE RITUAL
Face count 57 muscles that need to be stimulated or relaxed. As face ritual instructor, Aurelia del Sol combines breathing exercises, massage and acupressure for a beautiful skin day after day.
It is your moment, enjoy it!
Find a comfortable posture. Inhale. Exhale. And follow the master!
THRIVING INTO PERI-MENOPAUSE
HOLISTIC HEALTH APPROACH
Throughout this entire period, your body undergoes a multitude of biological and clinical changes. Understanding and identifying these changes as early as possible helps to prevent the inconveniences they cause and to properly prepare your body for the years that follows.
VERONICA DI NARDO
NUTRITIONIST
"DURING PERI-MENOPAUSE, THE BODY USES ENERGY DIFFERENTLY. EVERY WOMAN IS DIFFERENT, AND BODIES RESPOND THEIR OWN WAY TO THESE CHANGES. LET'S START WITH UNIVERSAL TIPS."
3 min
reading
WEEK 2.
CHOOSE AN ADAPTED DIET AT PERI-MENOPAUSE
ADAPTED DIET AT PERI-MENOPAUSE
WHY ADAPTED DIET AT PERIMENOPAUSE?
During peri-menopause, the body uses energy differently and needs less daily intake. It loses muscle mass, weight gain and fat repartition evolve. As each one of us is unique, our body will respond its own way to hormonal variations.
That's why today I would like to draw your attention on solutions a healthy diet may offer to prevent you from gaining too much weight, but also on how it can help you lower other menopausal effects such as: hot flashes, sleep disorders, mood swings, skin ageing, heart diseases or bone loss.
Very simple tools can make you live this period more serenely, let's start with universal tips that suits all of us!
Eat healthy and organic foods at each meal:

Try to eat at least 5 portions of fruits and vegetables.
Mainly found into fishes, fruits and vegetables we know that vitamins C, D, K as well as calcium are recommended for proper maintenance of bone health.

Avoid alcohol and caffeine and choose foods that are low in added sugars, saturated fats and sodium.
Make water your best ally by drinking at least 1,5L per day.
Practice daily physical exercises.
These habits will not only prevent you from weight gain, but they will also benefit to the largest organ of your body: your skin.
HOW TO BOOST COLLAGEN AND HYALURONIC ACID SYNTHESIS WITH NUTRITION?
Because of estrogen decrease and cortisol increase, wrinkles are more visible and skin loses elasticity. However, some specific food intake can reduce these effects.
Collagen is made of different amino acids, but Glycine, Proline and Lysine are the ones we find in higher proportion. They will increase collagen dermal synthesis and prevent skin ageing. You will find them in animal proteins such as dairy products, eggs, or seafood but also in vegetables like quinoa and mushrooms.
Closely related to the skin barrier function, Omega 3 will also guard you from dryness, inflammation, itchy skin or even sun damage. You can find it in salmon, nuts, trout or flax seed, canola oil or soybean.
Vitamin C is fundamental for collagen synthesis. You will find it in all citrus fruits, such as oranges, lemons, or mandarins, but also in great quantity into kiwis, strawberries, or other green vegetables such as broccoli and spinach.
Rich sources in Vitamin D eating fatty fish like trout or white mushrooms, will prevent you from skin dryness and will stimulate cellular proliferation of your skin.
There is a close association between sugar and some food processing methods with skin ageing. Their mechanisms are related to skin Advanced Glycation End products (AGESs) and their accumulation fasten the ageing of your skin. Choose the right carbohydrates!

Prefer whole grains and low sugar food.
Avoid fried, grilled or baked food and prefer boiled, steamed or raw food

Minerals like copper, silicon, manganese, iron are also needed for collagen synthesis. Find them in liver, oysters, spinach, legumes and red meat. As anti-nutrient (mostly found into vegetables) reduce the absorption of minerals, you can deactivate their effect by soaking or boiling the food before eating.
ADAPTED DIET BENEFITS ON MENOPAUSE SYMPTOMS
As I said at the beginning, healthy diet will not only improve your skin ageing appearance, but it may also lower menopause symptoms. Here are a few tips to avoid hot flashes one of the most common symptom during menopause.
Antioxidants like vitamin C and E can reduce vasomotor symptoms such as hot flashes whilst improving immune system.
Avoid large meals and spicy or acidic foods before bedtime. This will prevent from hot flashes and ensure a better night.
And to put all the chances on your side to have a restful night, avoid caffein and alcohol, especially in the late afternoon, and try to stop drinking any liquids a few hours before going to bed.
4 min
reading
WEEK 1.
THRIVING IN PERI-
MENOPAUSE WITH A
HOLISTIC HEALTH
PRACTICE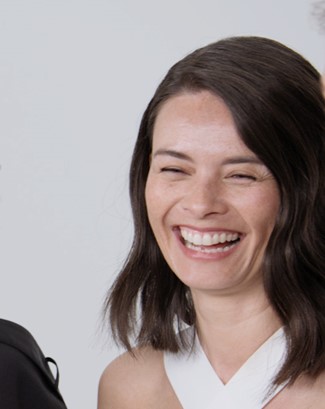 THRIVING IN PERI-MENOPAUSE WITH A HOLISTIC HEALTH PRACTICE
WHAT IS PERI-MENOPAUSE?
Peri-menopause is related to the period of time that precedes the end of the menstrual cycles and which corresponds to hormonal disturbances. Cycles usually tend to shorten even though it is not rare to see them lengthen. Menstrual flow intensity undergoes the same mechanism as it can be increased or on the contrary, decreased. Keep in mind that if ovulation is deeply disturbed during peri-menopause it does not mean that you can't get pregnant. Do not change the habits you had until you reach menopause.
Throughout this entire period, your body undergoes a multitude of biological and clinical changes. Oestrogens produced by ovaries since your puberty gradually dry up. During this period women can go through:
Hyper-oestrogenism which causes irritability, breast pain, weight gain as well as abdominal swelling
or through hypo-oestrogenism which provokes hot flashes, sleep troubles, general fatigue, loss of libido and low morale.
Since, they use to play a decisive role in many organs' good health, their fluctuations affect almost every part of your body. Your bones, your heart, your breasts, your brain, your genitourinary system, your skin, your hair or even your nails are impacted by these natural changes. Understanding and identifying these mechanisms as early as possible helps to prevent inconveniences they cause and to properly prepare your body for the years that follow.
EACH MENOPAUSE IS UNIQUE
This phase of peri-menopause, like the following ones, varies enormously depending on the professional activity, the social demographic, the physical and psychological health and even the family clinical history of the individual. Each of you is unique and each of you will be affected differently. That is why it really needs to become a conversation between you and your practitioner. Nowadays, in addition to a regular and complete medical check-up, a simple blood test can indicate how likely symptoms are to manifest in the near future. Because each and every symptom has a treatment or a solution, whether pharmacological or not, early identification of changes will help you to choose the strategy that is the best for you to limit or sometimes even avoid undesirable effects.
6 TIPS TO HELP YOU TO GO THROUGH PERIMENOPOSE SERENELY
Menopause is not a disease; it is a natural process every woman experience differently. Here are 6 tips to improve your health, self-confidence and well-being.
Healthy diet
What if perimenopause was the occasion to rediscover benefits of healthy food? Varied and proportionate healthy food consumption will help your body adapt to the changes it is facing. Healthy diet will help you to control weight gain. It will boost your density and skin hydration while providing your bones minerals and vitamins they may lack. It will protect your cardiovascular system and also have benefits into reducing hot flashes and sleep troubles.
Exercise
Regular exercise along with healthy diet will help you maintain a healthy weight. It helps to decrease hot flashes; it reduces the risk of coronary artery disease, and it also has a beneficial effect on bone and skin density. If you're not used to practice physical activity, surround yourself with others. It will make this moment funnier and will enhance both your motivation and dedication.
Skincare
Boost your skin density and hydration by improving your intake of foods rich in vitamin E, D and omega 3. Practice physical exercises as much as you can and make yourself happy with beauty treatments adapted to your skin specificities.
Bad habits cessation
Smoking as well as alcohol consumption is associated with numerous chronic diseases. We also know that smoking contributes to an earlier onset of perimenopause and a longer period leading to menopause. It has also been concluded that alcohol consumption has a trigger effect on hot flashes, night sweats and sleep trouble.
Some other simple habits and routine may improve these latest symptoms. A few hours before bedtime, try to stop drinking all liquids, especially caffeine and alcohol. Avoid physical exercises in the evening and rather than spending time in front of your smartphones and tablets' blue lights, try to close your eyes and meditate.
Dialogue
Menopause is not a disease. You should be able to openly talk about it with your partner, members of your family and with your practitioner. Being surrounded, heard, understood and well advised during this transition period full of changes is decisive.
Medical check-up
Peri-menopause is a real occasion for you to know more about your body. As you are getting older, it is time to empower yourself by making sure all the preventions you can take are followed-up. That includes everything from weight, vulvovaginal examination, pelvic ultrasound, bone densitometry, liver assessment and mammograms to contraceptive management if needed as well as cardiovascular management. Your body is the most precious capital you have. Like all others, the way you manage is determining. Menopause is thus the perfect occasion to invest and empower positively your body's knowledge and general health. Take advantage of it!
Welcome to your program
This is your first week (of 4).
Let's start with… some contents, if you don't mind.